We're the team behind your images with one goal, to increase your productivity.
With easily accessible technology and an abundance of software applications to enhance images, customers have much higher expectations than ever before. Enhancing your images is essential for improving your photo business; whether you're a wedding, portrait, real estate or product photographer.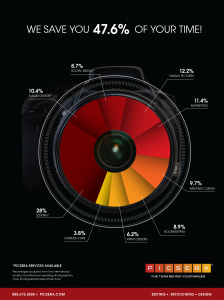 The digital age has made the photography business increasingly competitive and more time consuming. All photographers have to work with technology, but they don't need to master every aspect to be successful.  The photographer "jack-of-all trades" operating model is unsustainable. Delegating some post production activities is crucial for avoiding burnout and ensuring success.  Picsera is a passionate team of photographers, digital imaging artists and technology innovators assisting photographers by streamlining their entire post production workflow. In the days of film, photographers would turn to photo labs to do refined processing, editing, and retouching. Today these refinements have become more of the photographer's responsibility. However, imaging programs such as Photoshop and Lightroom are very advanced and can take years to master. Picsera's team of photo editors and retouchers have more than 30  years of combined experience with Adobe Photoshop Lightroom, Adobe Photoshop, and other leading tools on the market from Nik Software, Topaz, OnOne Software, VSCO, Perfectly Clear, Fundy Software, and a variety of others.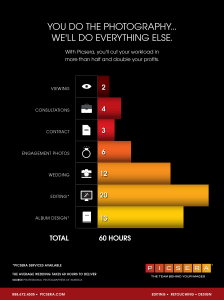 Creating a streamlined system that will help you simplify your entire workflow includes:
Photo organization
Image enhancement
Album design and multimedia presentation
Photo sharing and social media
Picsera helps your photo business through photo editing,
retouching
, album design, and workflow innovation. Picsera offers photographers a wide range of post-production services that are available as a complete bundle or as an individual a la carte basis. Visit our
Services
page or watch our videos below to learn more: