What is Product Visualization?
Product visualization is a technique that uses rendered models, images, or other forms of artwork to creatively communicate the product offerings. Initially, 3D product modeling and visualization was used to generate compelling images to tell the story while a product or design is still in its initial stages. Nowadays, they are being used to represent current and upcoming product offerings to pique the interest of the customers. Lifestyle product photography, on the other hand, is taking product visualization a notch higher. It puts your product in a natural environment that makes it blend in, while still making it the star of the shot.
Placing Furniture Visualizations in Suitable Surroundings
Lifestyle renderers for furniture visualization can be the perfect way to achieve atmospheric and photorealistic visuals. Even the most complicated ideas and minute details are recreated the way you designed them to look. The largest furniture producers commonly use architectural visualization to minimize marketing costs.
Now there are huge 3D libraries with CGI, where you can buy digital models and textures of very high quality and bring them directly into your scenes. This is relatively easier and cheaper to achieve rather than transporting the furniture and setting up the scene just for one style of shoot.
Types Of Lifestyle Product Photography
Lifestyle shots in a portfolio are one of the most effective ways of exposing the product's advantages, thereby enormously boosting sales. A regular studio backdrop for a merchandise picture, a wooden board, solid color cloth, or a plain sheet of paper can no longer satisfy a fussy customer. Now they want to see how well this specific piece of furniture can fit into the house's general design.
It's easy to place a product on a plain background, but it's hard to get the imagination of the customers going to see how a furniture piece can perfectly fit in your house. No matter how beautiful your product is, it can't effectively entice the customers without showing how well it can blend in with other furniture pieces.
These shots must provide the consumer with sufficient knowledge to make a transaction. It makes 3D rendering the only best way to do it easily and at a cheaper cost. It's the best alternative to traditional lifestyle photography.
Colorways Lifestyle Shots
Colorways lifestyle photoshoots expose the item in several color variations. A viewer will look at one picture from the item's entire color palette. Consequently, without taking too much room in a catalog and making it into a thick book, a manufacturer demonstrates the full range of the product.
The furniture and all its color variations could be shown in various lifestyle interiors and furniture on a 3D picture, specially chosen by go-to designers. Helping customers see the most suitable choice for their house, imagine how it would look there, and instantly buy the item.
This type of lifestyle shot is intended to illustrate the dimensions of the item. It is positioned relative to the scale of other elements of the furniture. It is much easier to grasp the kitchen counter's dimensions in plain terms when you see it against the settee or a sofa. This shows the consumer what they need to know about the scale of the item and how it could work with the interior design as a whole. 
When shopping online, customers most likely won't be literally measuring using the dimensions described, unless it's furniture that would need to fit in a limited space. They  would rather imagine it in terms of scale, in comparison with the other furniture they may already have.
In various design solutions, a group shot shows the lineup of the collection of the product. It depicts the entire range in all colors and materials and may even feature a few context adjustments. But every time a furniture model or context has to be adjusted, and new shots are produced again, the system becomes more complex and slower. 
3D furniture rendering makes it possible to put a few furniture elements in various 3D scenes and do it as many times as required. Group lifestyle shots are a great cross-selling device for the record, as they show several items taken from a furniture store side by side. You can do a lifestyle product photography shoot with several items from your collection without pulling out stocks from your inventory.
A hero shot transforms the flagship product into a hero on the page of the catalog. The furniture factor is positioned in the room where everything serves to explain its advantages and, hence, to demonstrate a unique value proposition. The "hero" here is the furniture itself. Even with other elements placed in the shot, the spotlight is focused on the product. It's an optimal method for the audience to see the item's trademark characteristics.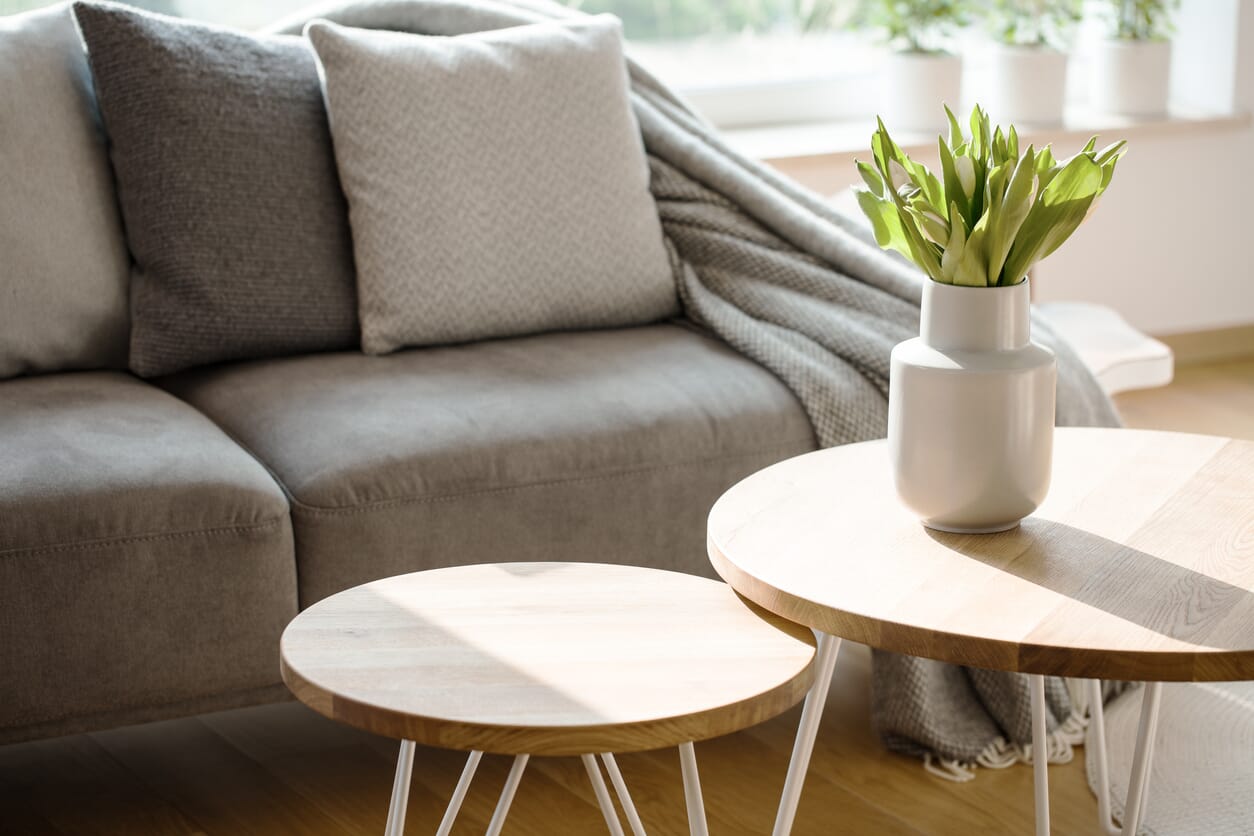 Whatever the positioning is, the quality of materials used will still be the crux of buying furniture. This is what the detail shot does. It focuses at various close-up angles on the specific features of the object. Which will enable the user to determine its quality and make their decision. 
Even with the best photographers, it takes immensely expensive tools and lengthy post-edits to fully capture the materials used in a product, such as corduroy or velvet. Instead of taking photos, marketers rely on 3D technology to create 3D furniture renders of the products to show high-definition close-up shots. To encourage prospects to choose custom pieces of one item, furniture manufacturers use these lifestyle shots.
Benefits of Using 3D Lifestyle Product Photography
Marketers and manufacturers are presented with an age-old question regarding content presentation and promotion campaigns: should we choose traditional photography or 3D rendering to get jaw-dropping pictures of our furniture?  
Of course, only top-quality photorealistic product photos merit the trust of consumers and attract their attention. But conventional picture sets are costly: first, you need to create a prototype and then lease a studio with all the gear, employ stylists, a moving company, a photographer, and so on. Traditional photography is not so flexible, particularly in terms of animated shots. It takes longer to finish an entire collection, too, using multiple items of your products that you can instead sell.
However, 3D photography has a clear edge over conventional photography at a fraction of the cost and a fraction of the time. All the design and scenario pegs can be done with 3D technology. Lifestyle product photography is made easier and more beautiful with 3D rendering.
Real-Time Customization With 3D Rendering Of Lifestyle Photography
Customers crave for customized experiences, so it is important to give them the freedom to tailor the product. We like to have options because it makes us feel in control. As many as 71 percent of customers who customize a product said they would be willing to pay a higher price for it. 
Suppose you want to display as many variations and choices as possible. In that case, you should consider using 3D rendering, because it can be costly and time-consuming to arrange a photoshoot for pieces of furniture with various materials, textures, and details.
Hassles Of Environment Do Not Affect Picture Quality
When planning a photoshoot, you can't monitor weather conditions, where your preparations and deadlines can be greatly affected by this. Lifestyle product photography is made extra challenging with the unintended natural imperfections that could ruin your furniture, especially during transport.
Imagine the expensive outdoor sofa that you wanted to capture next to the pool. All of a sudden, it starts to rain. Frustrating, right? Can you imagine having to move your furniture in a rush, and how long will you need to postpone your shoot? Things are a lot more straightforward with 3D visualization. Everything can be changed the way you need it to look – lighting, framing, shadows, reflections. 3D rendering is going to save you a great deal of trouble. 
Instant Gratification For Volatile Online Customers
In our high-impulse society, people are in constant search of immediate gratification. They get distracted easily, so in order to gain their attention, you have to offer an immersive retail experience. 
3D visualization is unbeatable when we're talking about user interaction. Interactive 3D gives you the ability to turn your audience into active participants from passive viewers, thus increasing the time spent on the web and eventually improving sales. Consumers want to know what they are buying and offering them an opportunity to display the item from any perspective and change the colors and textures, will get them closer to the "Add to Cart" button.
Why Outsource your 3D Lifestyle Product Photography?
Only the best experts can create realistic, picture-perfect lifestyle product photography using 3D technology. Aside from rendering the product itself, the other elements in the shot will also need to be manipulated. It can take longer than a normal product rendering, and more skills and techniques are needed to execute it properly.
Instead of hiring your own in-house team, outsourcing will help save you money and effort. Leading editing companies like Picsera will help you produce top-notch lifestyle product photography each time, skipping on all the stress from traditional product photography. Instantly boost your sales with a partner like Picsera!
Did Someone Say Free Trial?
3D rendering has helped many businesses flourish, including the furniture industry. This innovation has seen a more efficient marketing and manufacturing strategy for the benefit of both the seller and the consumer. Upgrade your business today with one of the best  
rendering services
 made affordable.