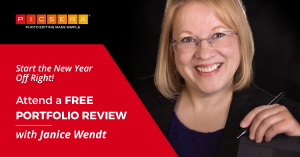 Get Ready for Your Portfolio Review Session with Janice Wendt
Picsera is hosting portfolio review sessions in Atlanta from January 10 -12. Here is how to prepare and what to expect in your review session with Janice Wendt, Picsera's Head of Education. If you would like to attend a session and haven't registered yet, it's not too late. We still have just a few spots available.
Preparation:
Determine Your goals. Are you looking to improve your image capture skills by getting some tips on lighting, posing, and composition? Or, are you trying to strengthen your images in post- production with effective use of cropping, color correction, styling, or retouching? Try to identify one or two areas where you think you would like to improve.
Choose Your Images. Choose your strongest images that may have potential for improvement. Also, select photos that best represent your photography focus and the markets you serve.
Bring Your Images. Once you've selected your images, copy them to a Flash Drive or notebook computer and remember to bring these items to the review session.
Portfolio Review Agenda:
Define Goals. At the start of your meeting, tell Janice exactly what you are hoping to gain from the session. The meeting is 30 minutes so stay focused on one objective in order to maximize your time.
Review Images. Using your goals as a guide Janice will provide constructive feedback on your images. During the review process Janice will be selecting an image candidate to take to the next level with retouching.
Build Your Action Plan. Together, you and Janice will identify opportunities to enhance the selected image. After listening to your ideas and sharing some of her own thoughts, Janice will mark up the image in Photoshop, creating an action plan to take your photo from good to AWESOME!!
Enhance Your Image. Once the action plan is complete, it's time to roll up your sleeves and make the magic happen! Using Lightroom, Photoshop and other tools of the trade, Janice will start to create your masterpiece. Due to limited time, it is likely that the art work will not be finished during the meeting. Unfinished images will be assigned to a Picsera artist for completion. Final images will be available for download from the Picsera website within a week of the session.
Questions & Answers. The last five minutes will be reserved to review the workflow that was presented and to address any questions. Use this time to discuss any post production challenges you may be facing in your photography business and learn how Picsera can help you.
We are looking forward to meeting you soon and we wish you a safe journey to Atlanta. To register, please use the online for or email us at info@picsera.com and write "I want a Portfolio Review in the subject line and we will confirm your appointment via email or text message. Please be sure to provide your mobile number in the email.