Get Great New Gear Photographers Love
Picsera announces the Picsera500 Sweepstakes and its affiliate membership with B&H Photo, which is known as "The Professional's Source" for photography equipment. Entrants of the Picsera500 sweepstakes will have a chance to win a $500 gift card to purchase equipment of their choosing. Great new gear photographer's love includes these latest items at B&H: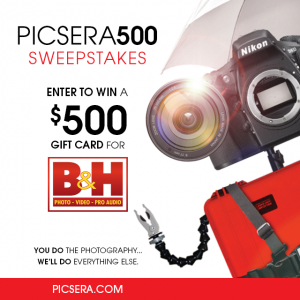 To kick off the event, Picsera introduces Picsy, the Photog gear-bot. The great new gear that photographers love is exactly what makes Picsy come to life! Enter to win now and look for Picsy in social media and on our website to announce the winner on May 7, 2015 at 12:00 p.m. Eastern.
Picsera aims to make photographers lives easier through post-production services, technology and education. Our affiliate program membership with B&H is just one step closer to fulfilling our mission.
Remember to look for Picsy during more upcoming events and sweepstakes announcements!