The book captures the aspirations of children from all fifty states, who hope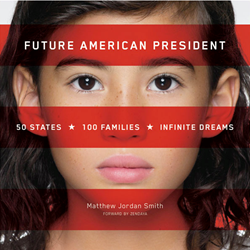 to one day be president.
Los Angeles, CA (PRWEB) February 11, 2015 — When Matthew Jordan Smith started his book project, "Future American President", he had no idea just how far reaching it would go. Now, two and a half years later the book captures the dreams of children of one hundred families in fifty states all based on the question, "What would you do if your were president?"
Eight year old, Jacob, from Illinois wrote, "if I were a presidend I would make shure everyone had food."
Twelve year old Kennedy from Mississippi wrote, "If I were president I would help people get along with each other. People judge others by what they look like and not what's on the inside. Everyone is special in their own way and there is no need to change!"
From the whimsical to the serious, Matthew Jordan Smith has captured the essence of their goals in both their portrait and their hand-written dreams. That old expression, "from the mouths of babes" couldn't be more accurately displayed over and over again in this stunning presentation.
"I wanted to capture more than just their portrait," commented Smith. "I wanted to create a body of work that was representative of a segment of America's youth. These kids represent infinite dreams and in their own words, a hope to change America."
Future American President is destined to be one of the most talked about books of 2015. It's received terrific reviews and is on its way to the White House.
About Matthew Jordan Smith
Matthew Jordan Smith has worked with some of the top names in entertainment today and many international clients have used his artistry to showcase their vision. He has appeared as guest photographer and surprise judge on the hit TV show America's Next Top Model numerous times and has appeared on The View, Good Day New York, and BET. He counts among his many magazine interviews InStyle, Essence, Photo District News, Rangefinder, and Professional Photographer. An active volunteer with several art schools including Pratt Institute, Parsons School of Design, and RIT, as well as a board member of Kids with a Cause Europe and APA/LA.
Matthew is based in Los Angeles and is one of America's leading fashion, beauty and portrait artists, as well as an author and photo-educator. Doing the portraits of children for "Future American President" was so fulfilling that he's recently expanded his work to include fine art family portraiture.